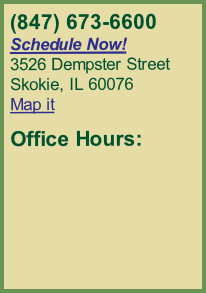 9am - 12:30pm &
3pm - 7pm
8am - 11am
1st & 3rd Saturdays only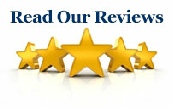 Serving the residents of Skokie and the surrounding area for the past decade, the doctors of Healing Hands Wellness & Chiropractic Center recognize that optimum patient health cannot be attained unless all medical conditions and lifestyle choices – past and present – be addressed and resolved.
To help patients achieve their health goal, the physicians use their professional training in chiropractic as well as other adjuncts such as:
We offer on-site x-ray and our staff speaks both English and Spanish.
Healing Hands Wellness & Chiropractic Center extends its reach to people of all ages, from infants to grandparents, in order to benefit the entire family unit.
The conditions treated at Healing Hands Wellness & Chiropractic Center are not limited to back pain. Dr. Milosavljevic and Dr. Wiewel have cutting-edge solutions for a variety of musculoskeletal and internal disorders including but not limited to:


massage (

learn more

)

children's care

nutritional counseling
pinched nerves

sprains/strains
The chiropractors at Healing Hands have used their years of experience to successfully treat thousands of patients with these conditions.
If you or anyone you know suffers from pain or if you simply want to function at your optimal ability, please call the clinic today.

8am-11am (1st & 3rd only)


Call us today at (847) 673-6600 to make an appointment or Schedule Now!
All Content Copyright © Healing Hands Wellness & Chiropractic Center Ltd.
www.HealingHandsOfSkokie.com phone: (847) 673-6600 fax: (847) 673-6601

Wonderful, caring team. I felt awful and walked in crooked yesterday and felt great when I left and so much better today.
- Loreen M, Wilmette
There is magic happening in this place. Each time I go in with a hopelessly out of whack spine/back/neck and I come out feeling like Usain Bolt.
- John C, Evanston
This is the first time I have tried a chiropractic approach for my back pain and I was pleasantly surprised at how quickly the treatment reduced my pain level. I was also amazed with how much time the doctor spent with me…excellent practice!
- Roberta K, Skokie
I went to Healing Hands with bad lower back and sciatica pain in my left leg. My pain has gone down drastically with the help of the professional staff there. I would highly recommend Healing Hands Wellness.
- Gary V, Morton Grove
I cannot praise enough about this practice. The doctors are very professional as well as Erin who assists the doctors and the practice. Outstanding service every time I go!
- Darryl F, Skokie
I love this family and team! I began seeking care in July 2014 for lower back pain associated with a previous injury. Due to their expert care, I was able to run a half marathon in November with no pain.
- Rachel T, Chicago
The whole team is amazing. They listen to the the issues and are able to treat the patient with gentle care.
- Nicole S, Chicago
I highly recommend Healing Hands. The treatment is wonderful, flexibility of hours great, and you can use the simple online appointment scheduler.
- Michael H, Skokie
Regular sessions helps me to maintain optimal functioning. I have been working with this professional staff for over 6 years.
- Susan N, Skokie
My back problems were so severe I could barely walk going into my first appointment. After just 2 visits I was able to regain a good portion of my mobility. Several follow up visits later I'm almost back to 100%.
- Gunnar W, Skokie
Friendly and helpful, both with maintenance type treatments and injuries. Both Drs. Wiewel and Milo are great. Easy to find location.
- Kathleen B, Buffalo Grove
Healing Hands Wellness chiropractors are the best! They take the time to treat me with adjustments that continue to make a huge and amazing difference. I recommend this team to everyone!
- Cynthia T, Evanston